Leveraging Tools with a Proactive Information Governance Strategy, Pt. 2: Combating the Risks of Data Accumulation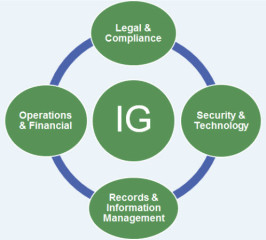 On Monday, May 23, I spoke on a panel at the InG3nious e-Discovery and Information Governance Retreat at Chateau Elan on "Examining Your Tools & Leveraging Them for Proactive Information Governance".  The event was a great success and our panel brought a four-sided perspective that encompassed records and information management, legal, operations, and technology from both the commercial and federal government sectors.
It had been a few months since I last spoke on e-Discovery and just like every Information Governance initiative, the follow-up is just as important as the foundation.
The first topic for the panel was risk. In a world of infinitely expanding data, it is crucial to have a legal expert in your corner for the enormous amount of risk surrounding data breach. Our legal expert discussed the need to secure your information from saboteurs and hackers to not only protect the information, but the systems as well. The omnipresent risk of data breach drives home the need to reign in the unnecessary accumulation of information and direct it into well managed streams and repositories. Doing so is rewarding across the board, reducing risks from litigation and security breaches, while reducing operational costs.
Discussing the risks would not be useful without offering solutions. All the panelists offered perspectives on the technologies that can help combat risk. Companies can't look to a single traditional Document and Records Management Product to solve all of their lifecycle management issues; the integration of multiple technology solutions is critical to a proactive information governance strategy. There is no shortage to products, so it helps to get a better understanding of the different categories of products that can be leveraged to organize the network drives and defensibly cleanup R.O.T. (redundant, outdated, and transitory data) – immediately reducing risk.
information archiving software that can archive, index, categorize, retain, and destroy documents/files on the network drives as well as email.
e-Discovery product suites with expanded capabilities including retention and destruction.
security and storage management tools that analyze and present content metadata, entitlement, and usage of content on network drives – some offer destruction capability as well
manage-in-place tools that provide a holistic view of an organization's information assets and records management capability without modifying the current repositories
add-ons to programs that users have already been using like SharePoint, Exchange, and Office 365.
Some of these products can transform data from disparate systems and legacy applications and make it available to all devices and applications, a necessary step with the ever growing popularity of smartphones, tablets, and other devices riddled with file restrictions.
Of course, technology is constantly innovating and changing, which makes participation in events such as this, and access to Information Governance experts, crucial to staying current on tools and techniques that can help you manage the exponential growth of information.