Cadence Group Attends NCHCMM 2017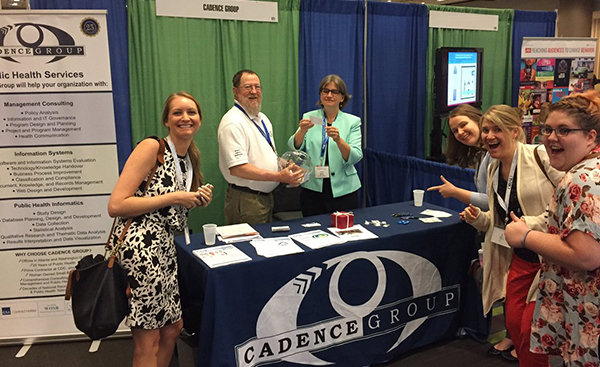 Cadence Group hosted a booth at the National Conference on Health Communication, Marketing, and Media (NCHCMM) from August 15th to 17th. Over 800 federal, state, local, and academic information professionals from across the country, including Cadence Group staff, attended presentations on a diverse array of topics and broadened their horizons by learning about the latest developments in health communication research. These presentations included a poster session which featured projects focused on Zika, vaccine safety, PrEP, diabetes, and CDC laboratory sciences.
Cadence Group had the opportunity to meet with many of these professionals at our booth. The theme of the conference, "Big Challenges and Real World Solutions," guided the majority of our discussions at the booth. One recurrent theme involved the challenges faced by communication systems for organizations. We suggested that many of these challenges could be addressed by properly organizing, storing, retrieving, using, and reusing content, and many visitors were surprised to learn that they could benefit from the application of specific professional disciplines such as records and information management and library science.
With this experience in mind, Cadence Group's solution to the theme "Big Challenges and Real World Solutions" is the full range of activities involved in the process of acquiring, organizing and disseminating health communication messages. An overall strategy to communicate in a crisis well in advance requires defining the audience (risk group) and message. Involve members of the community in creating and testing the message and let them help decide on the channels for dissemination and the spokesperson. Finally, engage stakeholders to assist in evaluation of its effectiveness. With professional assistance from the experts at Cadence Group, your organization can develop health communication materials and marketing campaigns to effectively reduce risk and produce measurable changes in outcomes.