Cadence Group at ARMA Live! 2017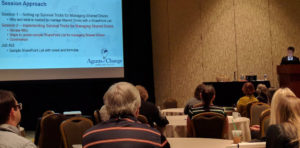 Cadence Group had a successful and very busy weekend in Orlando, FL, for ARMA Live! 2017, held October 15th to 17th. During the duration of the conference, Cadence Group hosted a booth in the "Consultants Corner" led a campfire discussion, presented multiple educational sessions, hosted an informal networking party – and of course, attended the conference! With over 200 sessions to choose from, our team gained diverse perspectives on a number of timely RIM/Information Governance topics. The hundreds of guests kept our booth and speakers busy the rest of the time. A Cadence Group conference tradition, our raffle awarded boxes of handcrafted chocolate from Modern Chocolatier.
Cadence Group enjoyed the opportunity to speak with professionals across the public and private sectors. In particular, with the launch our new Information Governance (IG) page, we discussed the value of good information governance practices and the benefits they can bring to organizations. We also used this opportunity to release our new Retention Scheduling capabilities. Learn more through the link: Records Retention Schedule Management (RRSM) Tool.
For information about the Cadence Group educational sessions, check out the following clips for an introduction on our 3 presentation topics:
ARMALive! 2017 Teasers Playlist
Mary Beth's Teaser Video
Mike's Teaser Video
Soo & Tina's Teaser Video