2017 Preparedness Summit Atlanta
Cadence Group is hosting Table 402 at The 2017 Preparedness Summit, which is to be held in the Atlanta Marriott Marquis from April 25th-28th.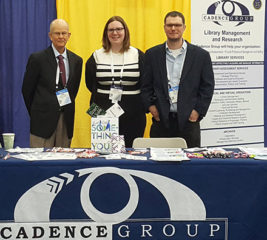 This is a rare opportunity to engage with Cadence Group's experienced employees and learn about how they support Public Health organizations and practices.
As a women owned small business, Cadence Group has been working as a prime contractor for CDC for over 20 years. Cadence Group continually accepts new challenges to keep a stance as leaders in the broad fields of public health and preparedness including software evaluation, data and information gathering, organizing, analyzing, storing, managing and dissemination. With current public health contracts in project planning, data collection, data cleaning, information management, data analysis, presentation, web design, and web development, Cadence Group has a variety of expertise and insights to offer those with any questions about the field.
The 2017 Preparedness Summit is the premier national conference in the field of public health and healthcare preparedness. The largest event of its kind, the 2017 Preparedness Summit will attract nearly 1,800 attendees who work all levels of government (local, state, and federal), emergency management, volunteer organizations, and healthcare coalitions. Find specific information about the event and register online here: http://preparednesssummit.org/.
About Cadence Group
Cadence Group, a certified woman owned small business, is a user-centric information management company with nearly 25 years of experience in consulting and information management services. Headquartered in Atlanta, GA, with an office in Washington, D.C., Cadence Group provides services to large federal agencies, as well as state and local governments. By combining information governance, process improvement, preparedness, web content management, records & information management, library science, knowledge management, user experience, training and technology services, Cadence Group helps corporate and government clients easily obtain, manage, disseminate, and communicate information. Clients optimize information assets, maintain compliance, and acquire information experts through Cadence Group's consulting and placement services. https://www.cadence-group.com.